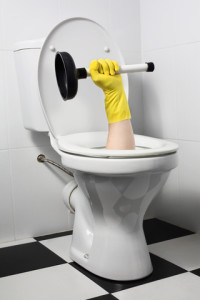 Finding the right plumber isn't just about pricing, availability, or expertise. It's also about work ethic. A good plumber will not only come to your home with respect, but he'll leave it with an added sense of dignity. What we mean is, your plumber should really get to the "Bottom" of things before he leaves. That applies to all maintenance services you hire for your home or office. (But we're a plumbing company, so we'll just stick with talking about plumbing for now.)
Your plumber should have a few things in order to be considered trustworthy, and today we're going to enumerate how you can know a good one when you see him.
Speed Isn't as Important As it May Seem
If you're in the business for a plumbing job you can't do yourself, chances are, there's a certain amount of haste that needs to go into this operation. Well hold your horses there, because a lot of plumbers can promise being speedy, but hardly anyone can be quick and thorough. In almost every industry in America (except for law, obviously) you just can't ask them to do their job well and be the roadrunner while they do it. It just doesn't usually turn out well. Here's our advice, when you're considering a plumber, go with one that emphasizes his performance and accuracy more than the pace at which he will perform. You've got to weigh the costs of accuracy against speed. Trust us, the cost of letting some greenhorn have full access to your pipes just isn't low enough to be viable.
Experience in the Industry
There are a lot of new companies sprouting up in all areas of the U.S. Many of these companies have hired experienced and weather-hardened veterans of the plumbing industry to make the house calls, and there's absolutely nothing wrong with that. What becomes a problem is a new company with completely new employees, management, and direction. Innovation is great, but be wary of plumbers with "The newest of the new and the best of the best" without any clear veteran support from an experienced patron in the industry. Sometimes, the surest way is going to be the most effective, and also the friendliest to your pocketbook.
Quality Track Record
A plumber doesn't deserve your business unless he can show you his previous work and display it with pride. The best of them are willing to be completely honest with their pricing, work ethic, and reasons for being in the industry. When it comes to your home, your assets and investments are extremely important, and it's just not a good idea to put your home into the hands of someone with little to no previous good work history.